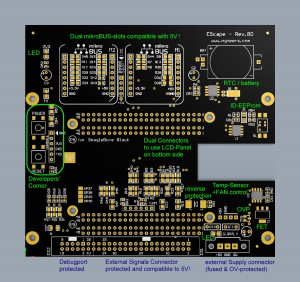 EScape

ist unsere erste Entwicklung für das Beaglebone Black…
Dieses "Cape" bietet zahlreiche Schnittstellen und eine Pegelanpassung für eine gefahrlose Erweiterung des populären CPU-Moduls.
– The BeagleBoneBlack BBB is a very interesting CPU-Module with the advantage it can easily be integrated in Your electronic design, but the main weakness of that board is the vulnerability of its port-pins! So we decided to design an easy and helpful interface between BBB and External Signals – the idea of our "EScape" was born.
In the last years our company worked on special replacements for obsolete industrial assemblies – we replace obsolete special devices like MC68230 with VHDL in FPGAs. Then we often had the same problem: Interfacing 3,3 or 1,8V devices to the rough 5V TTL environment. We took over our proven solutions to fix that issue for BBB!
We defined some free ports that have to be protected! Then we added some useful things that are important to make real solutions with BBB in the world of process technology:
Industrial connectors (for external Power-Supply)
Overvoltage and reverse protection
LEDs for power-supply int/ext
Fits perfect between 4.3" LCD-cape and BBB
Direct Stackable or with dual P8+P9 (male/female)
RTC-chip DS1307 with battery
LM75 temperature sensor
FAN controller output with FET
Output header for System-Terminal TTY0
BBB's Reset- and Powerbutton available
Debug-Connector with 3x Input for data wheel/pushbutton
2x complete microBUS-slots (3V3 and! 5V compatible)
16x External Signals 13x I/O, 1x Ser, 1x Analog
Analog ports with divider and OV protection
Standard 100mil dual row headers for easy connection
All external signals with bidirectional level translation and protection
stay tuned …